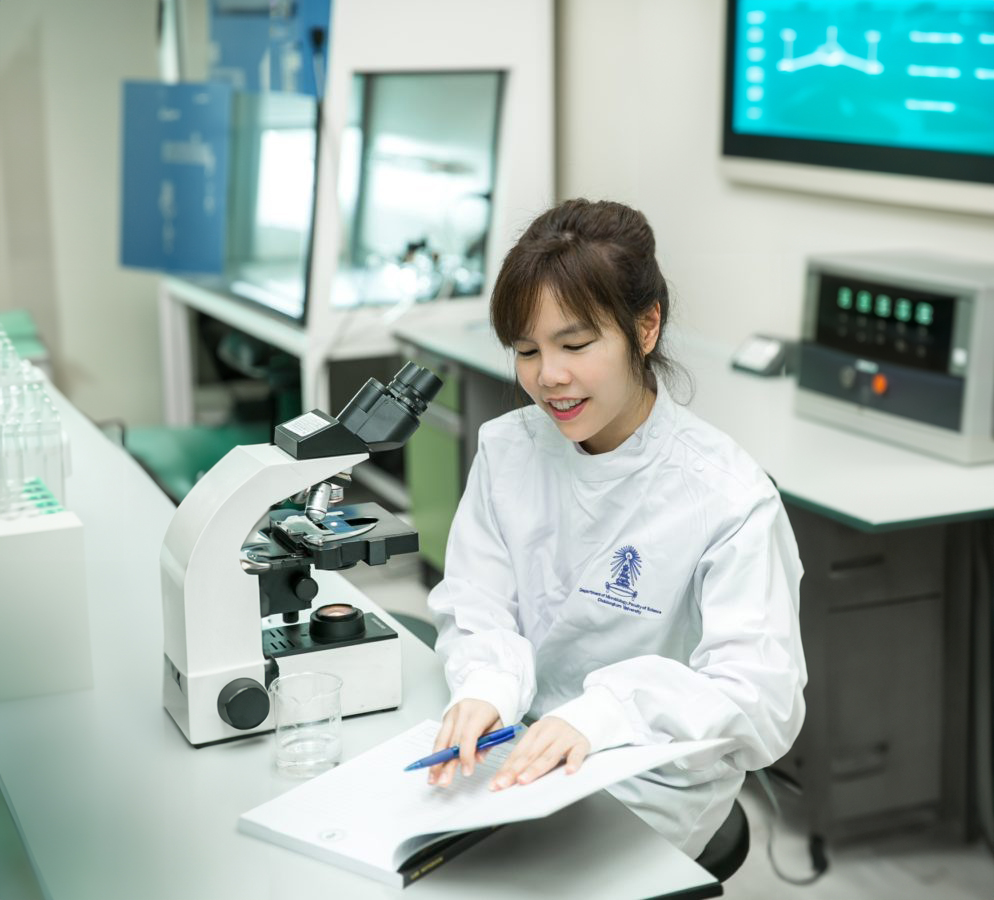 The specialized academic initiative designed for students passionate about the intersection of biology, technology, and innovation. 
The Bachelor of Science in Biotechnology (International Program) at Chulalongkorn University is a dynamic and interdisciplinary program within the Faculty of Science. BBTech is dedicated to exploring diverse realms of biotechnology, encompassing fields such as animal biotechnology, plant biotechnology, microbial biotechnology, environmental biotechnology, food biotechnology, marine biotechnology, bioinformatics, and biotechnology management.
Biotechnology stands at the forefront of scientific innovation, impacting agriculture, healthcare, food production, and environmental conservation. Our program reflects the evolving landscape of this discipline, incorporating cutting-edge fields like recombinant DNA technology, applied immunology, and genomics.
Recognizing the vital role biotechnology plays in shaping the future, our mission is clear. We aim to equip our students with a profound understanding of biotechnological principles and the skills to apply them. Our graduates will emerge as competent researchers and professionals, ready to contribute to sustainable development, enhance global health, and prosper in their communities.
BBTech offers a gateway to the world of biotechnological possibilities, where science transforms into innovation. Join our community dedicated to advancing human well-being and environmental stewardship through the power of biotechnology.
Program Philosophy
The Bachelor of Science in Biotechnology (International Program) aims to produce graduates who can utilize their knowledge and skills in the fields of science and biotechnology to contribute to the economic strength of the country. These graduates are capable of working in the global community amidst rapidly changing competition.
Graduates who are able to explain in molecular level of important foundations in biotechnology and its applications. Graduates are expected to command skills of using essential laboratory instruments and carry out research in biotechnology for applications in agriculture, industry, food, environment, or medicine, which will serve the need of the Thai society. They will be able to communicate and work effectively with people of different culture.
Learning Outcomes Framework
Clearly Defined Learning Outcomes: Establishing clear learning outcomes based on industry-relevant competencies and academic standards, serving as the foundation for academic coursework and work experiences.
Core Curriculum Alignment: Structuring the core curriculum to align with predetermined learning outcomes, ensuring the acquisition of essential knowledge and skills in biotechnological fields.
Personalized Learning and Skill Development 
Elective Courses and Diversified Outcomes: Crafting elective courses to enable students to pursue specific interests within biotechnology, tailoring their learning experience.
Hands-On Laboratory Experience: Integrating hands-on laboratory experiences into courses to provide practical skills, with a focus on mastery, critical thinking, and effective teamwork.
Industry Integration and Exposure
Industry-Relevant Competencies: Incorporating industry-specific training to expose students to current trends, technologies, and challenges in biotechnology, with learning outcomes focused on understanding trends, technologies, and ethical considerations.
On-Site Project Work: Actively engaging students in on-site integrative science projects with industry partners, applying classroom knowledge to practical challenges.
Communication and Showcase
Presentation and Publication: Providing platforms for students to present their science projects to the academic community and industry professionals, with encouragement for publication and conference presentations.
Continuous Improvement and Stakeholder Involvement
Customized Learning Plans and Evaluation: Developing individualized learning plans aligning with outcomes, integrating classroom theory with practical skills, and employing outcome-based evaluation involving university and industry stakeholders.
Reflective Learning Journals and Seminars: Integrating reflective practices through journals and seminars to encourage critical self-reflection, offering insights into program effectiveness in achieving educational objectives.
Program Learning Outcomes
PLO1  Integrate biotechnology knowledge in practice.
subPLO1.1 Explain biotechnology knowledge in practice.
subPLO1.2 Analyze biotechnology knowledge in practice.
subPLO1.3 Apply biotechnology knowledge in practice.
PLO2 Employ biotechnology-related technology and scientific tools.

PLO3 Communicate effectively in English within the Biotechnology field

PLO4 Demonstrate behavior that aligns with ethical principles, moral values, and professional ethics.
PLO5 Demonstrate social responsibility, courage, and creativity.